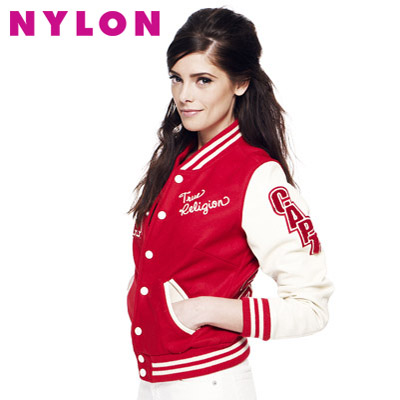 Ashley Greene is rocking out the cover of this August's issue of Nylon.
On keeping her waitressing gig after booking Twilight: I was working at the Belmont Cafe in L.A., got the call, and two weeks later was rehearsing. Right when I was cast, my IMDb STARmeter [a chart that tracks actors based on how many searches are done on them] went through the roof — all of ours did, and we hadn't even done anything yet!. I asked my boss if I could have my job back after the shoot. He was like, "I don't think you'll need it but OK."

On drawing from life experience for characters:
Growing up, I didn't have a hard life. Luckily, people are not the greatest in L.A., so once I got here and my heart was broken and people stabbed me in the back, I could use that to feel vulnerable.

On being typecast post-Twilight: It's not like, 'Oh, you're the quirky best friend-slash-sister'. There's no stereotype with Alice. And she doesn't really look anything like me, with the pixie cut and the white makeup. So to be put in a box, I'd kind of have to do it myself. And I'm not going to do that.
Check out more (including a great photo gallery) on Nylon and grab the issue on news stands.