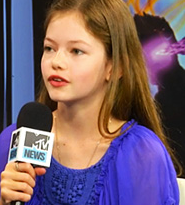 There so much footage out there, but we like these the best.
When was the first time you had heard of "Twilight"?
I don't remember how old I was, but I had heard of it.

Had you heard of the movies or the books first?
The books first.

Had you read the books first?
No, I am not allowed to read the books. I saw the movies, though. I saw the first one and the second one.

What were your first thoughts about the movies?
I thought they were really good movies.

Did you ever think you were going to end up being in one of them?
Actually, when I first saw them, I was like, "These are good movies!" I never thought, "Hey! Maybe I will be in one of those one day." I never thought that. It's kind of funny.

What was your first day on the set of "Breaking Dawn" like?
It was really cool. I was excited and happy because it was my first time being on a movie set. So I was just super excited.
See more on Moviefone