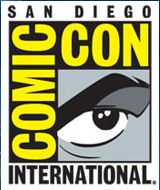 We've been getting a lot of questions about Comic Con next week what we are covering, when are things happening, advice to people going…so we thought we'd give you our game plan, and answer a few questions.
So when are you guys going to start Comic Con coverage?
Probably sometime on Wednesday, July 10th, figure afternoon east coast time. We'll be doing  fans online featurettes, preview of the show floor, all sorts of preshow goodness throughout the day.
What is your Thursday game plan when the big action starts?
11:00am-12:15 Pacific Time Laura will be live-blogging the press conference (pending Internet signal holding) that happens before the Hall H Panel.
12:45 Lori and/or Laura will live blog the Hall H panel
What about other days?
Friday
10:45-11:45 Pacific Time we will check out Anna Kendrick's ParaNorman Hall H Panel, hopefully live blog
4:15-5:15 Pacific Time we will check out Nikki Reed's EW Women of Pop Culture Panel, hopefully live blog
Saturday
6:00-7:0Pacific Time we will check out the screening and Q & A of Revolution the new Billy Burke and JD Pardo show coming this fall, hopefully live blog
For fans going, what do you think about getting on line? Do we need to camp out? Can we just get on line early Thursday morning?
This is one of those you have to play it by ear things. It's all down to how big that Hall H line is and is your priority just getting in the room (it holds 6,500 people) or getting a seat up front. Comic Con policy for years has been that they don't clear rooms in between panels and that your ticket doesn't guarantee you admittance to anything. So, if you want to be sure you get a spot in the room get there early. Here is the history:
In 2008, for Twilight people lined up early, we were the middle panel. There was some camping and people getting online in the wee hours the night before, Twilight took Comic Con by storm no one knew what to expect
In 2009 now everyone knew what Twilight was. For New Moon we had a Tim Burton's Alice in Wonderland panel ahead of us and an Avatar panel following us. There were people camped out starting early Tuesday from all fandoms. The other factor here is that the Twilight fans were also James Cameron and Tim Burton fans so they wanted to be in the room for all the panels! There is this weird psychosis that people think Twilight fans only want to watch Twilight panels…WRONG!
In 2011, it was a breeze to get in. Camping wasn't really necessary to get a seat, only if you wanted to get in up front. The reason was that Breaking Dawn was the first panel, and the things following us weren't what you would call blockbuster series. They were more like what you would call niche items so there wasn't this huge crush of multiple fandoms in the room vying for seats. So some Twilight fans stayed through, but not a ton.
This brings us to this year. We have a collection of movie trailer before us. Our gut is this isn't a must see do or die item for anyone. Next we are  up. Following us is a Tim Burton panel on his new film Frankenweenie. Given that we have Tim Burton following us and a lot of his fans didn't get to see his Alice in Wonderland presentation two years ago, we're thinking that there may be a lot of people on line starting early Wednesday morning especially since lots of Twilight fans are Tim Burton fans, and they are likely to stay to see his presentation. However (AND WE CAN'T SAY THIS STRONGLY ENOUGH) check out the line several times during the day. See how long the line winds and use your judgement.
 What should I bring if I sleep out?
First of all do read the Comic Con site for items prohibited (no tents, barbeques, large coolers, king size mattresses etc. ..read it here). Here's what we had that made it more tolerable (note I did not say comfortable).
Foam pad to put sleeping bag on top of, some people also choose pool floats. I personally found the pool floats awkward.
Sleeping bag liner. I didn't use a sleeping bag because they are bulky and I found them too warm. The liner was perfect. it's kind of like a fleece blanket.
Wear layers of soft clothes: yoga pants, tees, fleece/sweat jacket. The days are warn but night can get cold you want those layers! Yoga pants are really comfy to sleep in, not too warm not too hot. Shout out to TwiMoms whose yoga pants with an apple on them I wore last year and they were AWESOME!
Sleepmask and ear plugs. There are fairly bright lights and sometimes music 24/7 and freight train go by twice a night. I was born in NYC and lived in noisy apartment buildings for a good part of my life and I found it hard to sleep without those things!
Something you want signed and black and silver sharpies. You never know who may pop by the line for a visit. You want pens handy! Black markers sign well on light surfaces and silver signs well on dark surfaces. They are also permanent ink so huge advantage there. Also note the tee shirts don't sign well they are too stretchy and stars are reluctant to sign across your breasts! Have a book, a hat, a tote bag, a poster…something like that you could have signed if someone pops by.
Camera with fully charged batteries!
For advice from the folks who have sleeping out for events down to a science, I HIGHLY recommend visiting TwiFans advice page. These ladies are among the best equipped every year.
What are the biggest downsides to sleeping out?
The nearby hotels do not let you use their facilities overnight. Bathrooms are only one person at a time in the convention center. So if you have to go at 2:00am you may be online until 3:30 am. No joke that happened to me last year.
Camera crews who want to A) make Twilight fans look stupid or B) have no clue that you don't want to be interviewed at 2:00am. For the first batch, you can pretty much tell. There aren't many of those, but if the interviewer looks like he's 30 and sounds like a hormonal, middle school boy, there's a sign. For the second, it's annoying when it happens. True story, last year German and Mexican TV crews couldn't figure out why fans didn't want to chat at 6:30am and that a bright TV light in your face at 5:00 wasn't the wake up call you wanted. On the other hand, crews from MTV, EW, PopSugar, local news were really nice.
Potentially annoying people online. Last year I lucked out. The gals around me were awesome! So if you are sleeping out, for the love of Edward BE NICE TO YOUR NEIGHBORS! Common sense really no dance party at 3:00 am, trying to out fangirl your neighbors by constantly name dropping every celebrity you've met in every detail. Make friends with your line buddies! Offer to bring back coffee if you are making a food run. Offer to watch someone's stuff when they go to the bathroom…you get the picture.
Comic Con and the San Diego convention center team is in charge. This is a plus and minus. There security is great I never felt threatened or at risk. However sometimes you get mixed messages between convention staff and Comic Con staff. Try to roll with it and don't give anyone a hard time. Note Summit is not in charge of this event in any way, they have to follow what Comic Con staff OKs or changes on them the last second. For example last year, Summit arranged for breakfast to be delivered to fans before the lines were compressed, however Comic Con staff decided to compress the lines early without telling Summit making the food distribution way harder than what they had planned for. Kudos to Summit, their senior staff jumped in to try to make the distribution better!