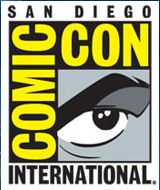 MTV is running an official statement that Robert Pattinson, Kristen Stewart, and Taylor Lautner have been confirmed for being in attendance at the Hall H panel prior to Hall H press conference at Comic Con this year. It would be highly unlikely that they wouldn't also appear in Hall H later, but that has not been confirmed.
MTV is also stating that at a press conference prior to the panel Peter Facinelli, Nikki Reed, Jackson Rathbone, Ashley Greene and Kellan Lutz as well as the person everyone has been jumping at the chance to talk to, Mackenzie Foy will be appearing.
Please note that though the MTV article gives the location of the press conference it is by invitation only with limited access. We will, pending Internet signal, live blog this conference and then the Hall H panel that follows.
Traditionally press conference video footage is available shortly after the conference has ended. We will embed that footage when available. Hall H Q&A footage is also available afterwards and we will embed that. As far as actual movie footage, we have to play that by ear. Sometimes studios are fine with that going online by turning a blind eye, other times they hand out C&D's. We'll do whatever the mode seems to allow (mind you, it can change minute to minute)