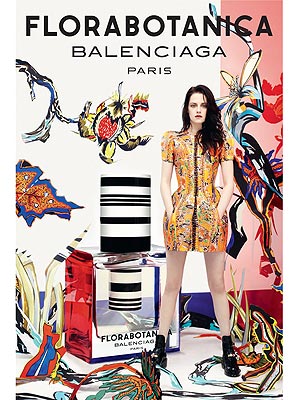 Kristen Stewart was recently chosen as  the face of Balenciaga Paris' new women's scent, Florabotanica, which is due out in September.  In an article for WWD, Kristen and the perfume's creator commented on the photo shoot:
The advertising photo shoot set was decorated with 3-D metal sculptures looking like elements of a floral print Ghesquière made a couple of years ago.

"It's the reality that looks artificial," said Ghesquière. "I think it was quite interesting."

In the print campaign photographed by Steven Meisel, Stewart — wearing a dress from the flower collection — stands fairly straight-legged, with her hands in her pockets.

"I think that's kind of perfect for this particular ad. Usually, a fragrance ad would definitely be like," said Stewart, striking an exaggerated, sexy lounge pose on the couch. "When I first stood there, I was like, 'OK, do you want me to show the curves of the dress? Do you want me to stand like this? Like that?' And they were like, 'Just be comfortable.'?"
Leave us a comment – what do you think of the way the add turned out? You can read more at WWD.