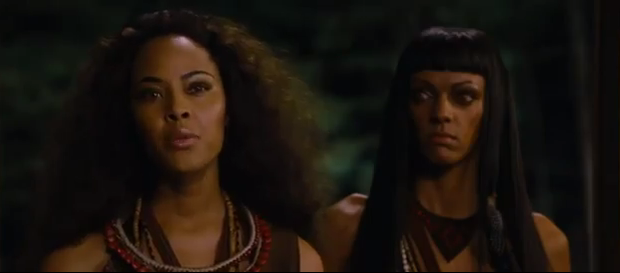 Tracey is the woman on the LEFT in the photo we are running. Celeb Buzz has her confused with the other Amazon Coven member Judi Shekoni. This is what Tracey had to say about working on the Breaking Dawn set.
B: Tell us about your role in the movie.
TH: I play the role of Senna, the oldest vampire. I come from the frame of reference where Zafrina, my vampire sister, has hooked me up again in some kind of situation and I'm here now. And all of the sudden, I want to help and defend these people [Cullens]. I'm very excited, because Senna loves to fight. She loves to kick butt and take names. I don't want to give too much away, but Senna is ready to go.

CB: Mackenzie Foy plays Bella and Edward's child, Renesmee. What was the dynamic like with her on set?
TH: She is so genuine. Mackenzie is a real live little girl. Every time she was on set, we all doted around her. She has that kind of sweet spirit, and I can see how she booked it because it just comes through.

CB: The film's director, Bill Condon, said it brought out a very paternal and motherly part of Rob and Kristen on set —aside from their swearing! Would you agree?
TH: Yes, Mackenzie had a swear dish, so each swear was per dollar. Some people said, "I'll give you 20 dollars now before we even start working." So, she whooped us all into shape with our dirty mouths.
See more on CelebBuzz
Catch our red carpet interview with Tracey below.