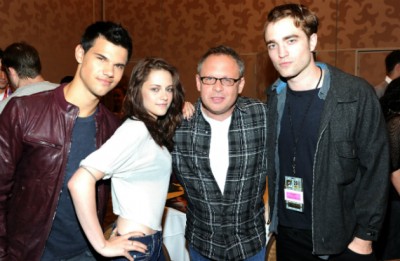 Laura's regular Breaking Dawn column is back in full swing over at Movies.com after taking a couple of months hiatus. Check out her predictions as to what will go down this year for the last big Twilight hurrah.
Another item to be on the lookout for is a PR stunt from the team at Summit/Lionsgate. With that many fans lined up three days in advance, they always do something. It's a beautiful photo op for them with so many fans gathered in one place. Why not take advantage? The only question remaining is what exactly are they going to pull-off this time around?

Last year, on Thursday morning to play off the movie name and to coincide with the break of dawn at circa 6:00am, they served the fans in line breakfast with beverage, muffins, coffee mugs, and posters being given away. Now, what's more impressive about this, is that it wasn't just a bunch of college students hired out to do the distribution. There were actually Summit executives handing out food and swag. After the crowd was warmed up with the free food and gifts, came phase two: a visit from the cast. Nikki Reed, Ashley Greene, and Elizabeth Reaser from the Cullen family made an appearance along with Julia Jones and Booboo Stewart from the wolfpack. They worked the fan lines in each of the tents signing autographs and posing for photos. The last bit of fun for some lucky fans was pulling a specially marked ticket from a bag that allowed the bearer to get an autograph from Robert Pattinson, Kristen Stewart, Taylor Lautner, and Bill Condon right after the Breaking Dawn Hall H panel.
Check out the rest of Laura's Breaking Dawn column on Movies.com