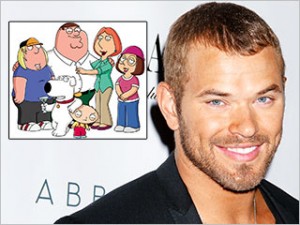 It seems like Kellan Lutz has found a home doing voice work in animation.  We previously reported that he would be the lead in Tarzan, which would be like an image capture animation film.  Now he's signed on to voice a character on The Family Guy.   
According to Family Guy executive producer Mark Hentemann, Lutz voices a stud on the high-school football team who is the subject of Meg's "Burt Bacharach-backed sexual fantasies." The hunky jock does agree to go on a date with Meg, "but he's interested in another member of the Griffin family — and it's not one of the women," hints Hentemann.
Read the whole story at EW.com.