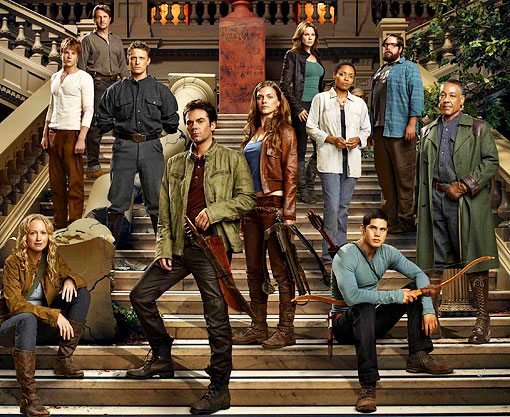 The first major wave of Comic Con announcements from various studios started today. Warner Brothers just announced their TV shows that will be present. The new show, Revolution, starring Billy Burke (Charlie Swan) and JD Pardo (he plays Nahuel–the guy with the bow and arrow on the steps in the official picture), will be at Comic Con on Saturday, July 14 according to TV Line.
Revolution (NBC) | Stars Billy Burke, Giancarlo Esposito and Tracy Spiridakos join creator/executive producer Eric Kripke and director/co-executive producer Jon Favreau. (Room 6BCF)
At previous Comic Cons, Twilight actors have also had other shows at the convention such as last summer that had the following:
Kristen Stewart Snow White
Kellan Lutz The Immortals
Joe Anderson (Alistair) The River
Taylor Lautner Abduction
In general those panels are really good. You get to see the Twilight stars in a new role, plus you get to hear why you might be interested in the new material.
Looking into our crystal ball (we have no insider info just educated guesses) we think you may see material from the following at Comic Con:
Breaking Dawn
The Host
Apparition (Ashley Greene)
Java Heat (Kellan Lutz)