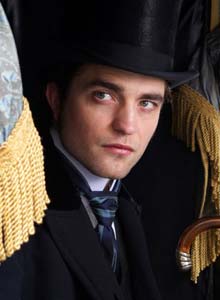 The Male TwiHard at Next Movie has a list of 7 things we've never seen Robert Pattinson do before in Twilight that he does do in Bel Ami.
1. Wear a Top Hat

Top hats were apparently all the rage in 1885 France, and not just for formal events. According to this film, they were considered great "walking-around" hats. Whether you were walking to buy flowers for your wife, or off to your journalism job you didn't deserve, or headed to see one of your mistresses for a daylight love tryst — a top hat was called for.
It seems odd we don't have this! Edward would have been great in a top hat!
Check out the entire list here.
Warning Bel Ami is an R-rated film.