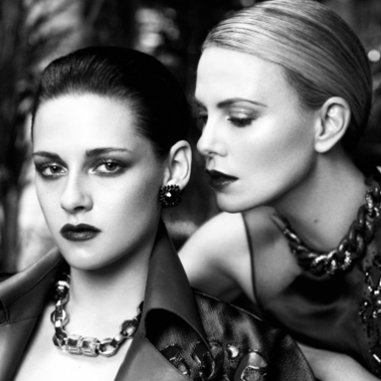 Kristen Stewart has been in Interview Magazine before. this time out they talk to her and Charlize Theron.   Kristen mentioned this bit about Twilight.
MITCHELL: It seems like every year you have these two wildly different pulls between the bigger movies that you do, like the Twilight films, and then the smaller ones that you've done. I remember a couple of years ago when you had both Welcome to the Rileys [2010] and The Runaways at Sundance.

STEWART: Yeah, I think it went Twilight, Welcome to the Rileys, New Moon, Runaways, then Eclipse, so it was like one of those movies between each Twilight movie.

MITCHELL: Was that just for you to remind yourself of why you wanted to do this?

STEWART: I just happened to have enough time to be able to take other parts between those first few Twilight films. But it wasn't about proving to people that I had something else to give.
See more on Interview