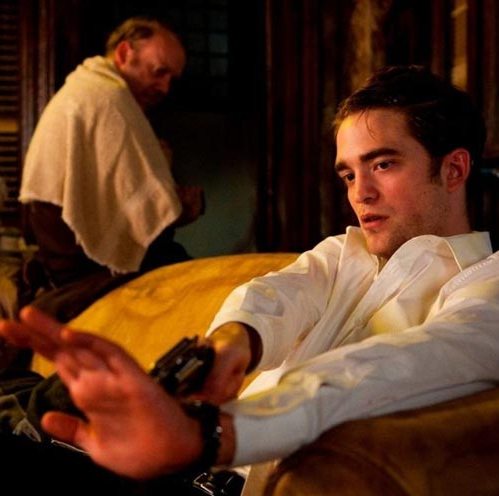 We've attended press conferences where they make it clear to only ask questions on the current film (Water for Elephants, The Runaways, etc) and to keep it away from personal life (who is in a relationship with who, whose marriage is on the rocks). It was respected by those who were there.
The only crossover we've ever seen (and we think it's a legit question) is what might draw your fanbase from Twilight to be interested in this current film? It's a question that any publicist worth their salt preps their client for, and we've seen it successfully answered by everyone from Peter Facinelli, to Kristen Stewart, to Taylor Lautner, to Chris Weitz when they are on other projects.
It's not even a unique question for Twilight. It happens to Harry Potter actors, action movie actors when they are in a different genre, even singers who cross-over into film.
Here's are two exchanges that took place in Cannes. Do you think someone dropped the ball on prepping Robert Pattinson to answer a common question. Do you think David Cronenberg overreacted?
But even playing a Wall Street banker with one of the most respected directors in the world won't allow Pattinson to escape the ever-looming specter of Twilight. Before Friday's press conference in Cannes, the moderator warned journalists to keep the questions to Cosmopolis: "Let's try to keep vampire and bats out of the conversation," he said. The comment drew laughs from the journalists crammed into every seat in the room. But it wasn't long before a question came that drew a comparison to Pattinson playing a vampire in Twilight and a "blood-sucking capitalist" in Cosmopolis. The comment drew a rebuke from Cronenberg. "You must ignore the baggage," Cronenberg said. "You know it exists. But we're doing a new thing. And you have to forget all that other stuff."
Later on there was a similar parallel to Robert Pattinson's real life of dealing with the paparazzi
Later Pattinson was asked to compare his life to the insular life of his banker character on the film. Much of the movie takes places in the confines of a limousine. "I'm not the best self analyst," said Pattinson. " I cannot seem to bring anything from my life into my work." Pattinson then stumbled a bit before saying, "Why can't I just answer the question? It's so annoying." Cronenberg stepped in again. "The reason you cannot answer the question," said Cronenberg, "is because it's a flawed question — trying to make a connection between Rob's life as a celebrity and his character's life."

All quotes via USA Today