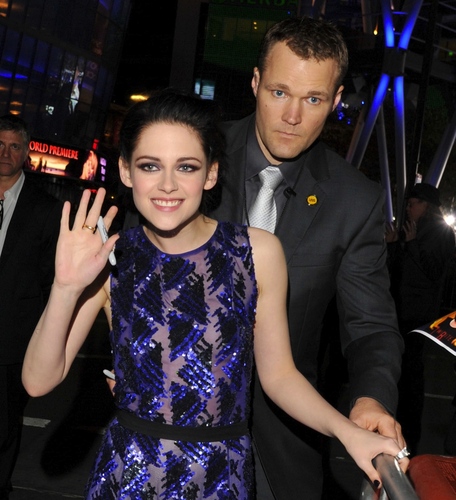 We caught site of the HBG (Hot Body Guard)group last year since they were directly across from us on the Breaking Dawn red carpet. MTV is doing a feature on the rising Facebook group.
One thing to point out about these ladies is that they don't take themselves too seriously. Yes, they are dedicated fans, but they also just want to continue to have fun with the concept.

"When Stephenie Meyer grabbed a hold of our HBG heads on a stick and took photos with them, that was so cool," Jacobs recalled of the author embracing their "fan art" at last year's premiere. "We were always worried that people would think we were crazy instead of just creative fans, but overall, the page and the whole concept has been really well-received."

"My dream for the group is for it to continue for as long as possible, maybe even until a gray-haired HBG is beating away the paparazzi with his cane in order to protect Kristen," Morrill joked. "Truthfully, when we started this page a year and half ago, we never could have imagined what it would become. People around the world now refer to Kristen Stewart's bodyguard as "HBG." We did that. Stephenie Meyer knows who we are. Kristen mentioned our page in an article for British GQ last year. The awesome folks at MTV think we're cool. It really doesn't get much better than that! The only thing I could imagine that would put a cherry on top of this entire experience is to one day be able to change the group's profile picture to one of the three of us with Kristen and 'HBG.'
Check out more on MTV You can catch the group on Twitter here or on Facebook here.
You can actually see the group pretty clearly in the background of our video with Bill Condon.