A week or so ago we had some images of Bella and Emmett in story board form of the anticipated arm wrestling scene in Breaking Dawn Part 2.  Kellan Lutz confirmed filming the scene in a conversation he had with Us Weekly at a recent event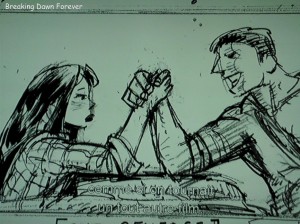 .
"Kristen and I have a fun arm-wrestling scene," Lutz said.  "I've been looking forward to that since day one of the franchise!"
But with the Twilight franchise coming to an end, Kellan is not shy about being interested in other franchises like Hunger Games.  He told E! News at the same Us Weekly event the following:
"I love the script, I love the movie, everything about it!"  Lutz said he's "always been" a fan of the franchise. "I got hooked reading all those books," he said. "I remember before they ever started making a movie, I was like, "I would love to be a part of this!'"
What are your thoughts? Would you love to see Kellan in Catching Fire or Mockingjay? Leave us a comment and let us know.