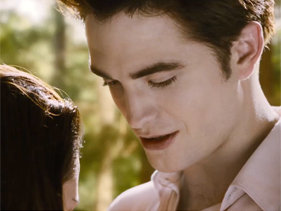 MTV asked Laura and others around teh fandom for their reaction to yesterday's brief glimpse into the teaser (or as we're calling it: The Tease to the Teaser…AKA, "Please Sir, can I have some more!")
Here's what Laura said to MTV:
Twilight Lexicon's Laura Byrne-Cristiano also appreciated the very short seconds of tease but, like most of us, was left wanting more.

"Ten seconds wasn't really enough to capture anything. We did see Bella running through the trees, but we couldn't see her face in that brief snippet," she said. "So, we got only a little of the Bella with vampire powers that I was hoping for. It was nice to see a reaction of Jacob and Edward to Bella, but I really would have been more satisfied if Bella herself (in particular her facial expressions) was more in the shot. I'm hoping we actually get to see her and not just her point of view in the full teaser."
See more on MTV.