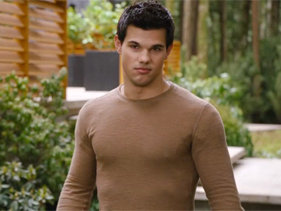 MTV has a rundown of things they are looking forward to in the full Breaking Dawn teaser:
Arm Wrestling and Other Bella-as-a-Vampire Scenes
So Bella is a vampire now. Hopefully that doesn't surprise anyone at this point, since everyone who saw "Breaking Dawn – Part 1" got a little sneak peek of those freaky-colored eyes of hers. As such, we should see a whole new side of Bella in this movie, including an arm wrestling match with Emmett. "I am hoping to see some vampire action in the full trailer," Mathews said. "There are some great training scenes from the book I hope they include, as well as some great cottage scenes with Bella and Edward! I expect to see lots of Bella as a vampire, and I'm OK with that!"
Check out the full list here. Do you agree with their choices?