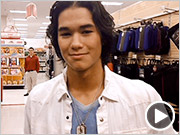 Booboo Stewart popped up at a Breaking Dawn release party in the Los Angeles area.
An especially gorgeous midwinter Friday night was not enough to deter Los Angeles Twilight fans from lining up inside the West Hollywood Target for a sneak peak of Breaking Dawn — Part 2. This infamous Target wasn't only one to hold a midnight release party for the DVD-Blu-ray release of Breaking Dawn — Part 1 — in fact, it was one of nearly 500 – but it was definitely the only location to boast a surprise visit from one of the film's stars, Booboo Stewart. EW was on the scene to check out the footage and chat with Stewart and the fans on their thoughts. Spoiler alert: The fans really liked it!
We can't embed the video, but you can see it here.
Also present at the very same store were Bill Condon's partner Jack Morrissey (find him on Twitter on Team Jack) and Erik Odom who plays Peter in Breaking Dawn Part 2. Thanks to our friend Tina Gill for sending over photos.