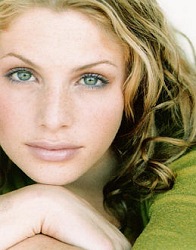 Casey LaBow didn't have an easy road to get cast in Breaking Dawn. Here she talks about what she went through to land the role of Kate.
Tell me about your audition.

Casey LaBow: You mean the 5 of them?

Sure, I'll just sit back and listen.

Casey LaBow: Get comfortable. It took 3 months of them bringing me in and out. Come in with straight hair, here's some different lines, we need to see it again, can you do this? And I was pulling my hair out. I was going to quit actually. I had come to the consensus at a certain point that, as I was crying on the floor of my shower, that I was not equipped for this kind of pressure. That I was just going to throw in the towel if I didn't get the job. And I got it.

After the first audition, were you like, "This is awesome. I think I did great." Why did they keep on calling you back?

Casey LaBow: You know, I think there were so many people that needed to get in line on the decision. The director, the writer, the producers. All these people that had to come together and agree. For whatever reason, initially there was some resistance for me. But I believe, I think it was Bill Condon the director who really responded to me right away and fought for me.

That's a good person to have fight for you.

Casey LaBow: It sure is. I mean, I think. I don't know for a fact, I didn't ask him.
But I will tell you this, the very first day that I got on set – the entire audition process was video so I only read with casting. I never read for producers, I never read for the director. It was all video.

Does that make it easier?

Casey LaBow: You know what? It did and it didn't. There was aspects of it. Like, "Maybe if they see me…" But anyway, the first day I got on set and I finally met Bill, the first thing he said to me was, "I'm so sorry."
Casey also talks about Kate's powers and more here on Daily Actor In case you missed it, she gave an interview yesterday that talked about being a fan of the series and working with Lee Pace who plays Garrett.