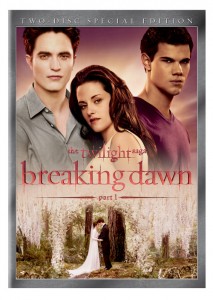 Breaking Dawn is the most successful Twilight movie to date when you add up the domestic and foreign box office totals. It is now also the most successful on DVD. According to Reuters:
Part 1″ got off to a stronger start on home entertainment than the last "Twilight" movies, selling 3.2 million DVD and Blu-ray discs over the weekend.That is 18 percent more than the 2010 "The Twilight Saga: Eclipse" took in its first weekend of home release in December 2010. "Eclipse" sold 2.7 million units its first weekend of release.

The discs went on sale at midnight on Saturday — timing reserved for big titles. Target and Walmart stores each sold exclusive versions of "Breaking Dawn" DVDs and Blu-rays, and held special events just after midnight Saturday morning.

Summit said that film also had approximately 50,000 digital sales, a 47 percent increase over "Eclipse," and approximately 80,000 Video-on-demand transactions, a 142 percent increase over the 2010 movie.