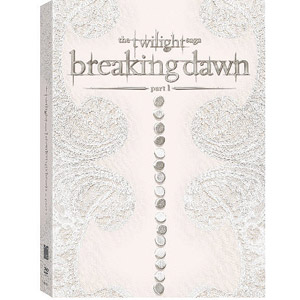 This press release in from Walmart:
Calling all Twi-hards! Walmart cordially invites Twilight fans to celebrate the marriage of Bella Swan and Edward Cullen on Feb. 10 in more than 2,700 stores. Twilight fans at Walmart will get the following exclusive content with every purchase of the Twilight Saga: Breaking Dawn Part 1, a 2-disc DVD or Blu-ray:
Bella's Wedding Special Edition featuring the collectible wedding dress packaging
Fabric poster of Bella and Edward's big day
Music videos from Bruno Mars and Christina Perri
Starting at 11 p.m. on Friday, Feb. 10, Walmart will throw the ultimate Twilight party with special giveaways*, movie trivia and a bakery stocked with Twilight-themed treats such as cupcakes and cakes. Walmart shoppers can also catch a cameo appearance from Rosalie Cullen on the retailer's in-store television network while waiting for the midnight unveil.
"When it comes to entertainment, Walmart is the destination for new movie releases, video games, music and more," said Seong Ohm, senior vice president and general manager of entertainment for Walmart U.S. "We're excited to give the millions of Twilight fans a place to unite, celebrate and receive exclusive Breaking Dawn collectibles at a great price."
A perfect Valentine's Day gift for fang-y friends and families, the DVD will be available for $22.96 and the Blu-ray for $26.96. For a full list of stores holding midnight events, please visit http://see.walmart.com/moviecenter/twilight-breaking-dawn-pt-1
Walmart's other hard-to-resist Twilight products include:
Twilight Saga: Breaking Dawn, Part 1 National Edition DVD – $19.96 / Blu-ray – $22.96
Twilight Saga: Breaking Dawn Soundtrack – $11.88
Twilight Saga: Breaking Dawn Dance Poster – $5.00
Books from the Twilight Series including Twilight, New Moon, Eclipse and Breaking Dawn – $7.64