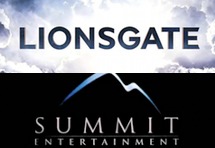 As you all know we have been following the Summit and Lionsgate merger with great interest. There are two reports today worth noting out of the LA Times and Deadline. The LA Times has more of what we personally consider to be good news. (bolding ours)
Rob Friedman and Patrick Wachsberger, co-chairmen of "Twilight" studio Summit Entertainment, have been named co-chairmen of the motion picture group for Lions Gate, which acquired Summit Jan. 13 for $412.5 million.

In their new jobs, the duo will be in charge of all film production, acquisition, distribution and marketing operations at the combined studio, as well as new home-entertainment releases of theatrical titles. They'll report directly to Lions Gate Chief Executive Jon Feltheimer.

They are replacing Lions Gate's current motion picture group president and co-Chief Operating Officer Joe Drake. He will remain on board, however, to oversee the release of the studio's high-stakes movie "The Hunger Games" on March 23.

People inside Lions Gate not authorized to speak publicly are expecting more changes inside the motion picture group as Friedman and Wachsberger bring over many of their approximately 160 employees from Summit. A significant number of layoffs are expected between the two companies, which are around the corner from each other in Santa Monica. Approximately 500 people work at Lions Gate.
See more on the LA Times
So why in our opinion is this good for us. In looking a Deadline Hollywood stories and commentary as well as our own expereince, Summit despite criticism on a number of issues (we're not saying they are perfect), is more responsive to fansites than most other movie studios by allowing fan site phone call interviews, red carpet presence, set visits, one-on-one interviews, and fan events. They also have a mastery of social media to a female audience unlike most studios whose efforts are hit or miss at best.
Lionsgate in the past has received heavy criticism from industry professionals and fans for ineffective marketing and a cursory at best knowledge on how fansites function, what their outreach is, the fact that more people visit there than their own movie's facebook and webpage, and how to appeal to a fanbase (who will be your repeat viewers) vs your newbie viewers.
We personally experienced some of this with the Abduction marketing which was a lot of:
"we are doing this"
"here is your mission now do it"
"we want you all to tweet this item in these exact words today"
"maybe we'll use one of your questions on a red carpet interview"
Rather than the Summit approach of,
"How can we appeal to your fans?"
"Do you think fans will like this message"
"can we do a phone call with cast members so you can bring the appeal to your audience"
…in other words  in our experience Lionsgate failed to realize that A) we're not their interns, B) who was an operator of a fansite with reach vs. who was a really peppy fan (who is certainly a valued consumer, but only had 20 followers on Twitter), and C) fansites are their target market each with over 50K daily visitors a day so maybe what we had to say was important. And by "we" I mean a collective group of over 20 people.
So given the announcement of who is traveling over in this merger, previous reports of Lionsgate realizing that summit had the marketing edge, we think this a a good thing for Twilight, AND for you Hunger Games people, it's a good thing for you too!
EDITED: Official press release here:
SANTA MONICA, Calif., and VANCOUVER, British Columbia, Jan. 20, 2012 /CNW/ – Following Lionsgate's (NYSE: LGF) acquisition of Summit Entertainment last Friday, the Company has named Summit Co-Chairs Rob Friedman and Patrick Wachsberger as Co-Chairs of Lionsgate's Motion Picture Group, it was announced today.
Friedman and Wachsberger will oversee all aspects of Lionsgate's domestic and international feature film acquisition, production and distribution business as well as the home entertainment releases of theatrical feature films.
"Rob and Patrick have built a remarkable organization at Summit, and they possess all the entrepreneurial leadership qualities that define our Lionsgate culture," said Lionsgate Co-Chairman and Chief Executive Officer Jon Feltheimer and Vice Chairman Michael Burns. "They are two of the most talented motion picture executives in our industry, and they have a history of building successful companies. Their addition to our senior management team should accelerate our continued growth into a global media powerhouse." Friedman and Wachsberger will report to Feltheimer.
"Given the upcoming March 23 release of HUNGER GAMES, I have asked Joe Drake, who has played such a pivotal role in acquiring, developing and building the franchise, to remain at the Company in order to shepherd the film's theatrical launch," continued Feltheimer.
"Jon Feltheimer, Michael Burns and the rest of the Lionsgate team have created one of the most successful and innovative entertainment companies in the world over the past 12 years, and we're thrilled to marshal all of Lionsgate and Summit's resources to begin the next chapter in this remarkable growth story," said Friedman and Wachsberger. "We believe that the feature film slates and home entertainment operations of the combined company will have unparalleled resonance for audiences, creative talent and buyers around the world."
Friedman and Wachsberger established Summit Entertainment along with Bob Hayward and David Garrett as a worldwide motion picture development, production and distribution studio in 2007 and guided its growth into a leading force in Hollywood. Prior to 2007, Wachsberger, along with partners Hayward and Garrett, created one of the world's most successful international sales and distribution companies when they took ownership from the Summit Entertainment Group shareholders in November 1993.
The most recent Summit Entertainment quickly established itself by launching the worldwide blockbuster TWILIGHT SAGA franchise, which has already grossed more than $2.5 billion at the worldwide box office, in addition to such hit films as the action comedy RED, the romantic adventure LETTERS TO JULIET, the scifi thriller KNOWING and the Academy Award winning THE HURT LOCKER.
Friedman previously served as Vice Chairman and Chief Operating Officer of the Paramount Motion Picture Group, supervising the release of numerous hit films including the multiple Academy Award winning blockbuster TITANIC. Prior to that, he served as President of Worldwide Advertising and Publicity for Warner Bros., where he was responsible for the release of over 180 movies including such blockbusters as SUPERMAN, BATMAN, BATMAN RETURNS, ACE VENTURA and Academy Award Best Picture winners CHARIOTS OF FIRE, UNFORGIVEN and DRIVING MISS DAISY.
With over 30 years experience in the production, distribution and acquisition business, Wachsberger helped build Summit into one of the world's most successful international sales and distribution companies.
Prior to serving as Summit International's CEO since 1993 and more recently also as Co-Chairman of Summit Entertainment, Wachsberger served for six years as President and CEO of Odyssey Entertainment and Odyssey Distribution where he acquired, coproduced and distributed his first acquisition, PELLE THE CONQUEROR, which won the Oscar for Best Foreign Language Film as well as The Palme d'or at Cannes. Wachsberger has also produced Paul Haggis' IN THE VALLEY OF ELAH, STEP UP, and the Brad Pitt/Angelina Jolie blockbuster MR. & MRS. SMITH, and he has executive produced such films as VANILLA SKY, BAD LIEUTENANT, WRONG TURN, Q & A, and SWITCH.