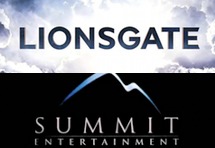 According to the press release on the AP wire:
Movie and TV studio Lions Gate Entertainment Corp. is buying Summit Entertainment, the maker of the hit "Twilight" series for teens, for $412.5 million in cash and stock. The deal announced Friday brings together two studios hoping to create a Hollywood powerhouse focused on young adult audiences.

The "Twilight" franchise has grossed more than $2.5 billion worldwide since the first movie blew out of the gates in late 2008, and hordes of fans of the Stephenie Meyer books rushed to theaters. The finale of the five-movie juggernaut, "The Twilight Saga: Breaking Dawn Part 2," is due out in November.

Meanwhile Lions Gate Entertainment Corp. plans to kick off its own four-part series based on Suzanne Collins' young adult novels, "The Hunger Games," beginning in March. The three books in the trilogy are ranked 1, 2 and 3 on USA Today's best-seller list and there are about 23 million books in print.

Combined, the studios hope to reap the benefits of selling to similar audiences.

"They have a tremendous outreach with fans and the ability to reach them through email, Facebook, et cetera," said Lions Gate CEO Jon Feltheimer. "Starting right now, today, we are going to utilize that institutional knowledge to move 'Hunger Games' ahead even more quickly."

Summit co-chairmen Rob Friedman and Patrick Wachsberger said in a statement, "We believe that the combined entity will be even greater than the sum of its parts."

Lions Gate said the majority of the purchase was funded with about $300 million in cash on Summit's books. It paid another $55 million from its cash reserves, took on new debt of $45 million and paid $50 million in stock. Another $20 million will be due in cash or stock within 60 days.

At the close of the deal, Summit's existing term loan was refinanced with a $500 million debt facility secured by revenue from Summit's upcoming and existing films.

Lions Gate said that debt is expected to be repaid well before the maturity date in 2016 and added that the transaction will "significantly" boost Lions Gate's earnings starting in April.

Feltheimer said Lions Gate would look to consolidate and pare down the combined studios' upcoming slate of movies but didn't specify how much. Before the merger they were on track to release a combined 22 to 27 films a year, which would put them on par with Hollywood's biggest studios. Time Warner Inc.'s Warner Bros., for example, aims to put out 18 to 22 movies a year.

For Summit's owners, the deal represents another big payout following a special dividend of around $200 million that accompanied a $750 million refinancing in March 2011.

The biggest winners are Summit's management, including Friedman and Wachsberger, which owns about 30 percent of Summit, and Summit's majority owner Suhail Rizvi of Rizvi Traverse Management.

It was not immediately clear if Friedman and Wachsberger would continue to run Summit as a Lions Gate subsidiary.

Lions Gate Entertainment Corp. already has a strong TV studio, which makes popular series such as "Mad Men," "Weeds," "Nurse Jackie" and is the key distribution partner of comedian Tyler Perry for his shows "House of Payne" and "Meet the Browns."

The studio had been distracted recently by a lengthy shareholder battle with activist investor Carl Icahn, who finally agreed last year to sell most of his shares and focus his attention elsewhere. Lions Gate had also taken a close look at buying faltering studio Metro-Goldwyn-Mayer Inc., but lost out to creditors who took it over in late 2010.

Both Lions Gate and Summit have head offices in Santa Monica, Calif., although Lions Gate is technically based in Vancouver, British Columbia.

Lions Gate shares closed down 11 cents at $8.60 before the merger announcement.
So what does this mean for us fans? Given what they are talking about in regards to online communities and outreach, this is probably good for us. It seems likes Summit's people who we have established a working relationship will remain. Historically Summit has been good in this area of fansite outreach, whereas Lionsgate has been in various instances been labeled as, ineffective, oblivious to, and even hostile to the fan community. Considering that there are a fair number of Hunger Games high profile fansites that are run by people connected to Twilight sites (three that come immediately to mind are Mockingjay, HOB, and Hypable) this is good for them as well.