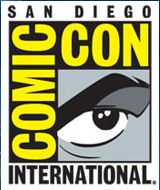 Comic Con has just changed the way people register for their annual convention. They now have a preregistration where you have to create an account (different than before) in order to be registered in their system with a unique name and ID. Then when they have registration a couple of months down the road, you apparently log in using that newly created ID in order to get your convention passes. Yes, I know that this is a little confusing, but that's their system.
Now Summit has not announced yet if they will be at Comic Con (nor has any other studio for that matter). However, we would believe that it would be highly unlikely for them skip Comic Con since it's the last hurrah for Twilight. Also since they tend to be marketing creatures of habit, we also think it highly likely that they would be there on Thursday since that is what they have done every single year that they were there.
So in short:
1. Go here and create an account using the big red button in the right column.
2. Once you have this account when they actually start offering event passes you can buy them. They have not as of yet announced the on-sale date of these passes
Please keep in mind the following:
Registering for Comic Con does not guarantee you a seat in any panel. It's first come first serve seating, and if other popular things are in the hall that day sleeping out on the street is likely necessary.
Comic Con is not run by Summit Entertainment. Summit does not set any rules here, Comic Con staff does in conjunction with the security force at the convention center.
99% of the Twilight fans in the past have been able to see the Q & A panels. Roughly 3,000 people fit into the big hall (AKA Hall H) Some lucky ones on a lottery ticket system in the past got autographs from some of the stars. Last year some stars (not Rob Kristen or Taylor) stopped by to bring breakfast over to those of us waiting outside.
As soon as we know more we will announce it.