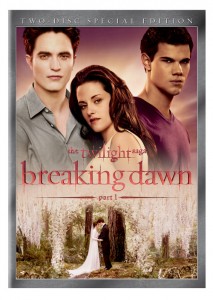 Over at the Official Breaking Dawn movie website they are starting to enter info about the pending DVD release. You can see that they are planning on release parties, but no info yet on locations.
Remember, they have a DVD coupon offer (US residents) listed.
Step 1

Take a picture of your The Twilight Saga: Breaking Dawn – Part 1 movie ticket stub with your mobile phone.

To ensure proper validation, please

click here

for tips on taking a picture of your movie ticket stub.

Step 2

Text or email the image to bd@drvsusa.com. Standard text message rates apply.

Step 3

Once your submission has been validated, you will receive a text message or email with a code and a website address. Standard text message rates apply.

Step 4

Using your browser, go to the website address contained in your text message or email, enter the code you received, choose Blu-ray® or DVD, and fill out the required information.

Step 5

Your certificate for $5.00 off of The Twilight Saga: Breaking Dawn – Part 1 Blu-ray® or $3.00 off the DVD will be mailed to your address.

Limited to one valid movie ticket submission. Maximum three tries to submit image. Codes Expire 4/30/12 at 11:59:59 PM PST. Valid in the US only. Not valid in Puerto Rico. Reward certificates expire 5/31/12 at 11:59:59 PM PST. While supplies last.
See the original here.
They are also working on a portal that lists the retailers and takes you right to their preorder screens (Note Target is not listed yet and they have the DVD version that includes movie flowers.)
From what we can tell, and we will update if this changes, the content on the DVD will be the same, but the packaging extras is where the differences lie. So far the two retailers with packaging specialties are Walmart and Target. Check out yesterday's post to see what those extras are.