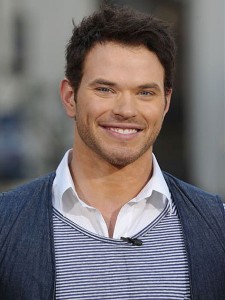 Back before she was famous for Twilight, Ashley Greene actually appeared in an episode of Punk'd as one of the background accomplices in an episode where Justin Long gets Punk'd Now it looks like Kellan Lutz will be in the driver's seat for an episode. According to Hypable:
During MTV's New Year's Eve telecast, it was announced that the previously-reported Punk'd reincarnation would replace former host Ashton Kutcher with a new host each week. Among the first announced are Twilight's Kellan Lutz, Justin Bieber and Miley Cyrus.
For those of you unfamiliar with the show, the basic idea is that celebrities prank (AKA Punk) their friends with the help of several accomplices and and hidden cameras. Think of it like a Candid Camera only it's on cable so the themes can be a little bit more risque.  Hypable has the video preview of the first episode.
Here is the episode Ashley was on, it's not the best video. No word get on who Kellan punks.