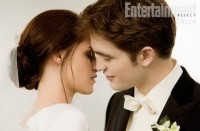 Allure Magazine has come up with their list of best movie beauty looks for 2011. It ranges from Kristen to to Rooney Mara in The Girl With a Dragon Tattoo.
This year, leading actresses took to the big screen with looks that ran the gamut from the perfect wedding makeup to a wig that looked too good to be, well, fake. Here, our picks for the six hair and makeup looks that mesmerized us at the movies this year.

Kristen Stewart in The Twilight Saga: Breaking Dawn (Part 1). The usually bare-faced Bella Swan (Stewart) showed off her most done look yet when she walked down the aisle to marry her vamp love, Edward (played by Robert Pattinson). Stewart wore shimmery honey brown eyes, lots of lashes, and glossy peach lips. Her hair—a braided low do under a bejeweled veil—added a romantic finishing touch.
Check out the entire list here on Allure.