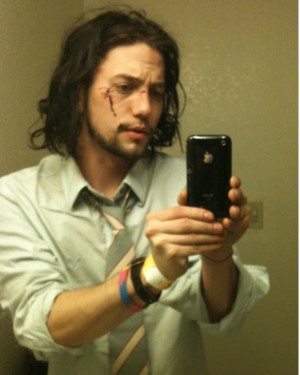 This isn't what you think at first glance, but a great story nonetheless. PaperMag has a out-of-the-ordinary interview with Jackson Rathbone.
It was the spring of 2010 and I was in love. The girl who had stolen my heart was a black 2006 custom Gibson Les Paul. We had met in the City of Angels on my 25th birthday. She wanted to come home with me, and I could tell this would be more than a one-night stand. This was love — not my first — but the last in a long line of broken strings and humbuckers. Our love was electric. She sang to me, and I knew her name was Betty.

I had been on the road with my band, 100 Monkeys, playing shows across North America. On this leg of the tour, we were playing dive bars and juke joints, caravanning with a small trailer lugged by an old Ford van, followed by a small white Scion xB. It wasn't luxurious by any means, but we were able to connect with our fans on a personal level.
Find out how Jackson had to protect the love of his life and what it cost him here.