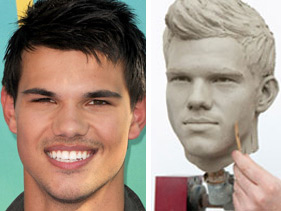 Both Taylor Lautner and robert Pattinson are having their images added to Madame Tussaud's. Rob already has his likeness in the New York and London sites and now he can add china. Taylor is a complete newbie.
According to MTV
If you've been yearning for a life sized replica of Taylor Lautner that you can keep in your house, snuggle up to when it's cold and take into your room at night for secret whisper parties…well, that's really weird, we're not gonna lie. But guess what: You're about to get half your wish! Madame Tussaud's Wax Museum in London has announced its figures-to-be for 2012, and Taylor is top of the list after becoming one of this year's most requested personalities ever to be rendered in wax. (So, to be clear: lifesize replica, yes. Latenight cuddling with a fake Tay-Tay, no. But hey, you can stand next to him and get your picture taken!)
So when will it be Kristen's turn? we want to know!