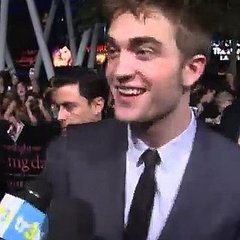 Empire does a refreshing interview with Robert Pattinson. We haven't been linking to too many interviews with him recently because most of them just repeat the same old stuff. This one, however, was really well done.
Are you happy to say goodbye to Twilight? And what has its impact been on our culture?
I guess I'm happy to move on, but it was nice to have good closure. I found Edward quite a restrictive character but in Breaking Dawn he kind of loosens up about everything. I mean, it's almost impossible not to when you're delivering babies and, you know, Bella is dying and all this stuff is happening. You can't play it the same, and that was nice. It was nice to have arguments and things as Edward, which seemed very unusual. But um, what's its contribution to the culture? Well one of the main things, which obviously the books did but the movies helped, was just getting young people reading again. Harry Potter started this thing, but anything which gets kids reading, it helps. As soon as you start reading one series then you start reading a bunch of other stuff. Just in terms of the film industry as well, I think Twilight showed that you can have a female audience for something and it does well.

Is there something you did like about Edward?
I thought he was great. The annoying thing about him is that that the fans' perception of him is that he's this perfect guy, but whenever I read the books, he doesn't seem like the perfect guy at all. I wanted to play his flaws, but then you have this subliminal idea coming from everywhere saying: "No, he's got to be perfect!" but you can't play perfect! Perfect is someone with loads of flaws, and then you stuck in this funny little loop. But it was interesting playing this one because I really didn't like a lot of Edward's actions in Breaking Dawn, and it's nice to play actions where you think: "Oh, he's doing the wrong thing."


Can you give an example of that?
I mean, he is just very selfish at the end and gets ruled by his emotions. His heart is running him instead of his head, which is the opposite of all the other movies. He's always trying to plan ahead, but he becomes much more impulsive and doesn't feel permanently guilty. He feels like he has been wronged when he hasn't been wronged at all.


What part of you is like Edward and what part of you is most unlike Edward?
I always feel guilty about everything; that's quite similar to Edward. And, I don't know, he always thinks he's doing the right thing, he always thinks he knows what is going on and I never feel like I know what is going on or doing the right thing!
Check out the rest on Empire.
Via Twilightish