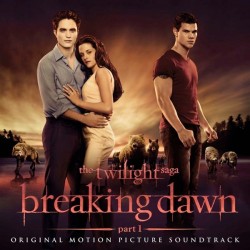 We have gotten more comments, emails, tweets, etc. on the Breaking Dawn Part 1 soundtrack than any other soundtrack in the franchise. It's not even close to the previous frontrunner, Twilight. The Twilight Examiner, Amanda Bell, has a really great article up on the 5 best placed songs in the movie.
5. The Noisettes – "Sister Rosetta": One of the things Breaking Dawn – Part 1 did really well was to add some humor in the in-between points, and "Bella's" need for "a few human moments" was one such. She races around trying to prepare for what is, to just about every woman, a pivotal night in her life by brushing her teeth, shaving her legs, and picking out something to wear. "Sister Rosetta" was a great song for this scene because it was quick, happy, and a little bit rattling, just like "Bella." I also quite like the joinder of the lyric, "Queens of Twilight" with "Bella." She is, after all, the "Queen" of Twilight.

4. Carter Burwell – "Love, Death, Birth": This piece of the score came in at the point when "Bella" is fighting for not just her own life but for her baby's as well. A lot happens here. "Renesmee" comes into being, for one, and "Bella" dies and is re-born herself. Burwell's return to the Saga for Breaking Dawn was an exciting one, and having him score this moment proves just why.
Check out the rest of Amanda's choices here.
Do you agree with her selection?