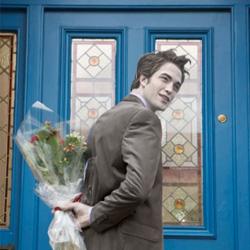 This post just made me laugh buckets today, especially with all the melodramatic "save the children from the horror of Twilight" critiques that pop up every time a movie comes out. It's nice to see someone putting Twilight into tongue-in-cheek perspective. Lists like this can be kind of predicable, but this one was actually, truly funny. I laughed out loud on number 4 particularly because of the way a colleague was talking about her 13-year-old at lunch.
5. He CLAIMS he's a vegetarian, but on that night you made Blood Pudding, he mysteriously materialized in your kitchen, scooped himself a big ol' plate and then politely asked for seconds.

4. He's the only person who can stand your daughter when she's PMS-ing.

3. She's not sleeping with him. NOT THAT YOU ENCOURAGE TEENAGE SEX.
Check out the entire list on NickMom Blog. Apparently Nickmom is a new site that just launched this week. Hope it continues to bring on the funny!