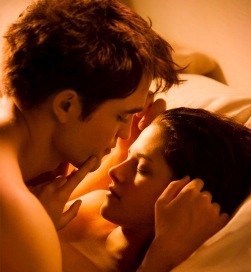 Breaking Dawn is raking right up there with previous films' box office results. According to THR:
Bringing the domestic box office to life, Summit Entertainment's The Twilight Saga: Breaking Dawn Part 1 grossed $72 million on Friday for a projected weekend opening in the $140 million range. Bowing day and date in 54 territories, the film has grossed another $66 million internationally.

The Kristen Stewart, Robert Pattinson and Taylor Lautner starrer is performing just slightly behind The Twilight Saga: New Moon, which opened on the same weekend two years ago to $142.8 million after grossing $72.7 million on Friday.

Breaking Dawn scored the third biggest opening day ever after Harry Potter and the Deathly Hallows Part 2 ($91.1 million) and New Moon.
Opening Day Top Grossing Movies of All Time Chart Via Box Office Mojo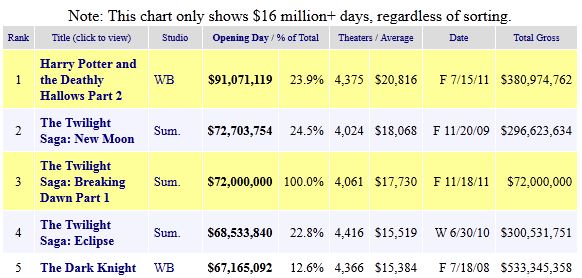 Keep in mind the Friday number is solid, but the weekend is a projection. Those numbers won't be solid until Monday afternoon. Regardless, Breaking Dawn is selling ahead of Eclipse and just slightly behind New Moon (the record holder until it was overtaken by the final Potter installment). Franchises typically open big and the follow up films don't do as well. Breaking Dawn is one of the few films to break this trend.