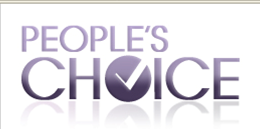 The final list for the People's Choice Awards came out today. No Twilight movie was eligible due to date cut offs, but Taylor Lautner and Robert Pattinson were nominated for their work in Abduction and Water For Elephants.
Favorite Dramatic Movie Actor: Robert Pattinson
Favorite Action Movie Star: Taylor Lautner
Also nominated was the film Water for Elephants in several categories and Breaking Dawn Soundtrack artist Bruno Mars was nominated for other work.
You can vote here for the ceremony that takes place in January.