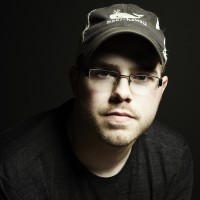 The folks over at Pattinson Post had the opportunity to interview Ryan O'Neal of Sleeping At Last. Their song, Turning Page, is on the Breaking Dawn Part 1 soundtrack out today!

Pattinson Post: How would you describe your music?

Sleeping at Last: that should be such an easy question to answer, but i always seem to stumble over it! i'll give it my best shot though… my music is sometimes on the gentler side of things. it features a rotating cast of different instruments.. from guitars, drums and bass instrumentation to pianos, banjos, ukeleles, and lots of orchestral instruments as well. i love strings! so strings find their way often into my songs. i'd say the genre fits somewhere in between indie, folk and alternative. aside from that, i just try to write very personal songs.

PP: You wrote "Turning Page" exclusively for the soundtrack. How did that happen?

SAL: yes! i wrote "turning page" a few months back, as a hopeful submission for the film. it's a love song! i watched the 3 previous films back to back and did a bit of research on what's to come in the story… and gave it my best shot! i couldn't believe it when i found out that it was chosen! there was a few months that went by after i submitted the song and i hadn't heard any word on it, so when i heard the news, only a little while ago now, it was all completely surreal… still shocked. i just feel so extremely privileged to be a part of the twilight saga, and am so grateful to the folks behind the scenes for giving this song a home in their film. i cannot wait for the soundtrack and film to release and for folks to hear it!
Check out more of this terrific interview over at Pattinson Post.