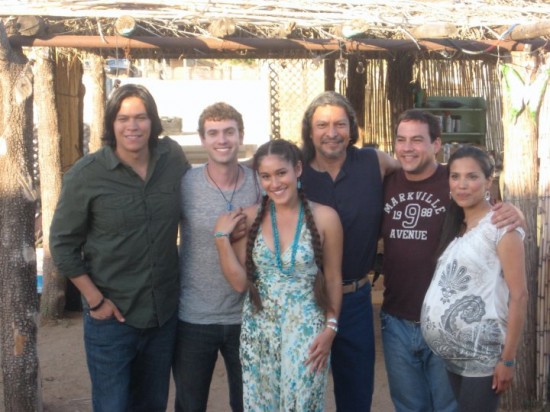 This press release just in from the creative team behind Shouting Secrets
San Francisco, venue of the 36th American Indian Film Festival prepares for opening night festivities today for the annual event which runs through November 12th, 2011. Among an impressive line-up of independent feature length and short films is the exclusive reception and world premiere of SHOUTING SECRETS, a motion picture developed, produced and directed by first time helmer Korinna Sehringer, November 10th at the Palace of Fine Arts.
Joker Film Productions presents a story about an All-American family with unique struggles but universal truths. SHOUTING SECRETS begins its global distribution tour, with pride, honoring a film festival with deep roots and a tradition dedicated to the honor of indigenous peoples in North America.
Every layer of this production from the story development to the stunning visuals, embracing audio and music soundtrack, to the dream cast and dramatic performances of audience favorite actors, by both established and emerging talents, all combine to deliver a most memorable theatrical experience.
Korinna credits her producing partner Josef Bollag, the tireless crew and production personnel, as well as the exceptionally gifted cast for their support and commitment to the success of SHOUTING SECRETS.
That world class cast features Chaske Spencer and Gil Birmingham – both screaming successes in the Twilight franchise, Tyler Christopher of General Hospital fame and Tonantzin Carmelo two exceptional performers, as well as Q'orianka Kilcher who got her big break playing Pocahontas in the 2005 major studio release of The New World. Native veteran actors Tantoo Cardinal and Rodney A. Grant contribute their gifts and talents toward in the telling of this cycle of life story, which affects every human being at some point in their lives.
The producers and select cast members (to be announced) will be attending the film festival, reception and SHOUTING SECRETS premiere eager to engage and interact with their audience and what will become the films first adopters !! The time has come for SHOUTING SECRETS to be shared with independent film enthusiasts around the world !!
For ticket information visit www.aifisf.com or call 415 -554-0525. To purchase from Brownpaper visit: http://www.brownpapertickets.com/event/205099