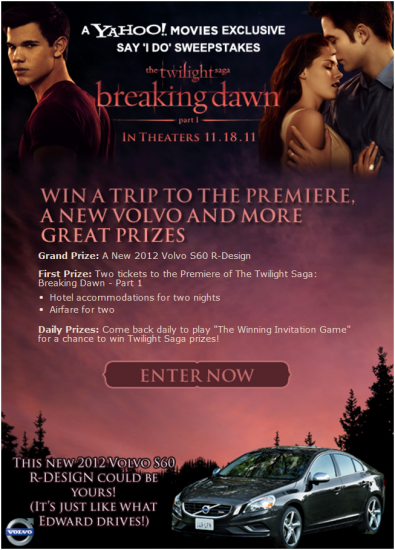 Say "I do" with the Yahoo! Movies: The Twilight Saga: Breaking Dawn – Part 1 sweepstakes.
To celebrate the launch of the new Twilight film we're offering one lucky fan a pair of tickets to the premiere at LA Live (including air fare and accommodation for two nights), plus a grand prize of a Volvo S60 (the same car model as Edward drives), and a host of daily prizes. The sweepstakes for the premiere tickets closes at 11:59pm on November 6th and the drawing for the Volvo S60 closes at 11:59pm on November 18th.
Check out Yahoo!Movies for full Twilight coverage including upcoming exclusive video clips, interviews and live coverage of the stars walking down the red carpet at the premiere.