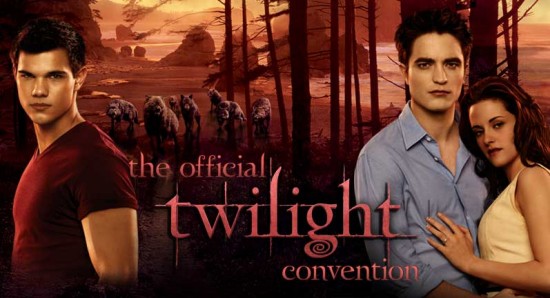 This just in from Creation Entertainment:
The convention this year will be even more extraordinary than last.  We have some very cool surprises in store for our fellow fans and we remain grateful to our friends at Summit for allowing us the opportunity to bring this highly unprecedented event for all to enjoy.   We are VERY happy to welcome director of The Twilight Saga: Breaking Dawn Parts 1 & 2 Bill Condon and the very talented screenwriter Melissa Rosenberg who has written all the screenplays for the Saga.   Both of these new stars will appear on Saturday bringing our Twilight celebrity attendance up to a record breaking 18 stars including the highly anticipated appearance of Kristen Stewart, Robert Pattinson and Taylor Lautner as well as The Cullen Family!

Gary Berman, co-CEO of Creation Entertainment, producing this weekend's event with Summit Entertainment, stated that the response to the convention has been nothing short of extraordinary.  "We are so pleased to join with our friends at Summit to deliver what we think will be an amazingly fun weekend for all Twilight fans that have been so very supportive of the productions from the very start.  We can't wait until the Northern American movie release date of The Twilight Saga: Breaking Dawn Part 1November 18 but the convention will help keep us going until then and we have some very cool surprises at the event to share too!"

Berman also stated that it was important to the production team for the convention to bring the weekend's festivities to one of Hollywood's legendary hotels and meeting spaces.  The Hyatt Regency Century Plaza is absolutely the correct historic meeting place and the Twilight Saga has made film and fan history deserving of such a prestigious location.
Tickets are going fast! Don't get caught missing out! Buy them here!