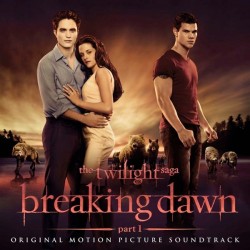 As many of you know from listening to the free preview of the soundtrack, there is a new version of "Flightless Bird, American Mouth."  MTV talked to director Bill Condon about revisiting the song.
"I always thought of this movie as the bookend to the first movie, and that was such a great powerful, romantic song for those characters," he told MTV News during a phone interview last week. "It just felt right to kind of refer back to it at this important, important moment," he added about "Breaking Dawn – Part 1," the first of the two-part finale.
Even though Condon wouldn't state where or when the song was used in the film, he did add that there are other pieces of music from previous films that will be revisited.
"Musically, I would say at the wedding there's a jazz quartet that plays a couple of tracks from 'Eclipse.' Carter Burwell has come back to do the score. He did the first movie, so 'Bella's Lullaby' features in this movie too."
Read the whole story at MTV.