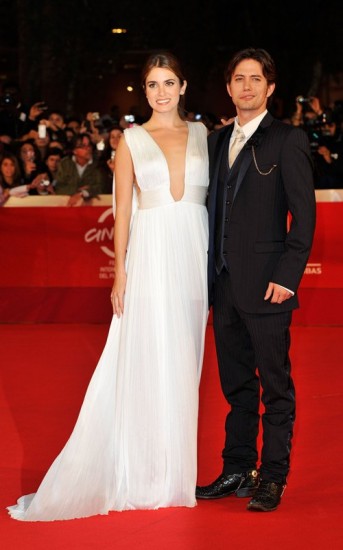 More footage of Nikki Reed and Jackson Rathbone at the premier in Rome has surfaced.  There is a video on facebook of the event with some interviews of various Italian fans.  Nikki had this to say about working with Kristen Stewart as well as some of the Volturi cast members:
"Kristen is a wonderful actress and so any moment you get to have with her is wonderful and we've been working with these people for so long and you don't, you forget what it's like to actually act and do scenes with some of these actors that are really great, like Michael Sheen is awesome and you don't actually act with them so this time around it was really nice."
Jackson talked about making a project that the fans want to see and will appreciate.
"Well you know, you always want to make a piece of art directly for the fans because they are the ones who make this all possible, if it wasn't for their love and devotion we wouldn't be here talking right now  about the film. And this film is the culmination of the series, it's the, finally we get to see the consummation of the relationship between Edward and Bella and I do mean, yes, vampire sex."
Read the full article here.