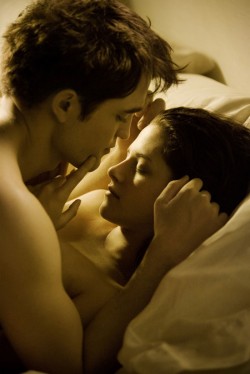 In a recent phone interview with MTV, Bill Condon addressed the concerns fans have had over the whole idea of a possible "R" rating for Breaking Dawn.
"It's almost clinical the kind of strict guidelines [the MPAA] have about anything that appears to be — how do I put it delicately?
That appears to be, let's call it thrusting. In fact, you know, it was so much more about romance than it was about hot-and-heavy action, so it was a very kind of simple adjustment to make."
Condon wouldn't confirm what Kristen Stewart said in Glamour about the film being re-cut to avoid the R rating.  We've heard from both sides of the fandom – those that want it to say PG-13 and those who want the "director's cut" version that isn't tamed down at all.  Let us know what you think in the comments.
Read the whole story at MTV.