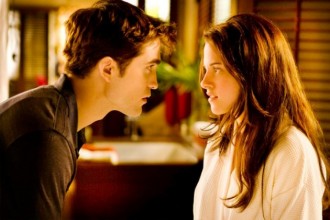 Robert Pattinson was interviewed by Total Film for Breaking Dawn. The have part of the interview (the rest is in teh print issue) online.
Those marital relations have some pretty severe consequences too, with Bella becoming pregnant with a half vampire-half human child. Turns out we weren't the only ones a little taken aback by this turn of events.

"When the final book came out, I was like 'She's not even thinking outside the box anymore. She's broken the whole box!'" Pattinson told us.

"She went all out on the last one. It's almost a different genre of movie."

So, was Pattinson daunted by the prospect of the sex scenes? "It's funny," he added. "People talk about sex scenes in the book, but there aren't actually any. It's all in people's imagination. They're like 'It's so hardcore,' but it always fades to black. It just shows bits of the aftermath."

Not that that filmmakers will be taking that approach. "You have to show something!" Pattinson asserts.

"You can't fade to black in the movie because people would go insane!
See more on Total Film