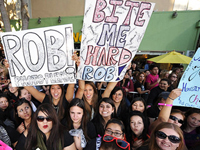 Box Office magazine, who just did two fantastic interviews with Bill Condon and Kristen Stewart just put out this request.
Boxoffice Weekly on the iPad is saluting Twilight fans in a special issue out on November 10th. Our column Fantastic profiles the most diehard fans in the world, the people who Kristen Stewart tells us "fuel" her because they share her intense feelings for Bella. To enter, send a picture of yourself with your single favorite Twilight treasure and a paragraph about what Twilight means to you to fantastic@boxoffice.com. All ages, all locations are welcome.
See their website here.