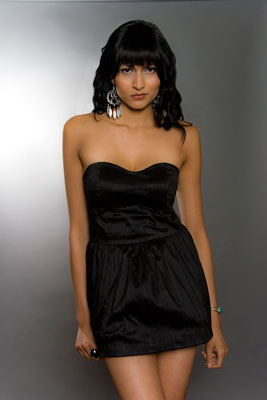 Moviefone sat down with Tinsel Korey to talk about Breaking Dawn and her upcoming projects.
"You know her as Emily, Sam's beautifully scarred fiancé in the 'Twilight' movies, but you probably wouldn't recognize Tinsel Korey walking down the street. While her 'Twilight' co-stars are constantly fawned over by diehard fans, Korey says that she can walk around incognito, since her character is somewhat disguised by the bangs and the scar.
Beyond 'Twilight,' Korey is best known as an indie movie queen. She garnered accolades for her role as Blue Girl in Carl Bessai's 'Unnatural & Accidental.' She's poised to wow audiences again in 'Stained,' which is being released on DVD on August 30. This time around, she channels her inner dark side to play a schizophrenic serial killer.
Despite all of her serious roles, Korey is actually quite a goofball. She'll have a chance to showcase her silly side in the upcoming flick 'Fishing Naked,' which costars her 'Twilight' buddy Bronson Pelletier. Moviefone caught up with the Canadian-born, LA-based actress to get the lowdown on shooting 'Breaking Dawn,' learning stunts from Kevin Sorbo and why she was hand-picked to play a killer."
See the rest on Moviefone.