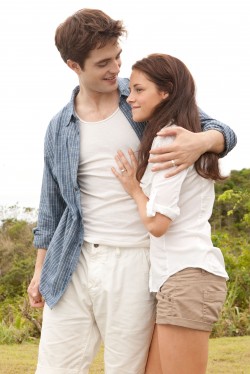 Giving a run down of the facts, MSNBC's Today Movies section breaks apart recent interviews from Entertainment Weekly and USA Today as well as various comments from Comic Con to hone in on just what we know will and won't happen in Breaking Dawn Pt 1.  From the simple but elegant wedding dress to the pillow biting honeymoon, through the blood drinking pregnancy and the C-section birth, they catch all the details the stars and filmmakers have managed to let slip out over the past few weeks.
So we want to know what isn't confirmed?  What is something in the books that we haven't heard about that you are really hoping makes it into the final cut?  Leave us a comment telling us which unconfirmed moments you are still crossing your fingers for.
Read the whole story on MSNBC Today Movies.