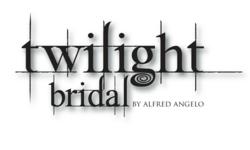 Let's face it Bella's wedding dress is the best kept secret in Breaking Dawn.  Kristen described the wedding dress experience to W magazine "The wedding dress experience was a huge deal. I tried on one version of the dress, and it was like tweak and tweak and alter and tweak and change, and then it's done."
   Now you can own your very own Bella wedding dress.  According to PRWeb bridal retailer Alfred Angelo will have replicas of the gown in stores by the end of November.
The gown will be a replica of the wedding dress worn by Kristen Stewart in THE TWILIGHT SAGA: BREAKING DAWN – PART 1. It will be priced in line with Alfred Angelo's popular bridal collection, and available in sizes 0 to 30W to fit every Twilight bride.
You can read more about the gown and Alfred Angelo HERE.