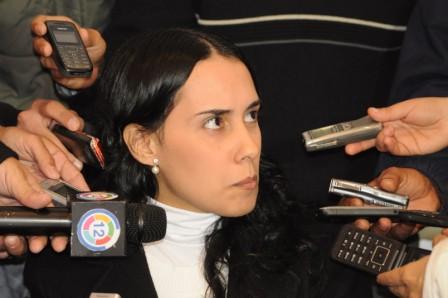 Daiana Santia, the woman from Posada, Argentina that Summit Entertainment named as a hacker in the leaked Breaking Dawn images, held a press conference today to protest her innocence.
According to the following sources: La Voz de Misiones (second article), Los Andes Online, Notecine,
Daiana Santia claims that she only saw images while surfing the web. She claims not to have sent images to anyone, not to have logged in any where to see them, and denies having the technical knowledge on how to hack anything. She claims she did nothing more than many fans did and just viewed images on the Internet.
She and her family (her father Hector is also named in the legal papers filed in California, presumably because the bill for the Internet is in his name) claim that over the last month they were harassed by movie producers demanding to see her hard drive. She claims through her attorney that she would not turn over her computer because of the personal items that are on it and because she is innocent.
Her attorneys claim that any legal action should go through Argentine courts first and Argentine authorities should investigate. Specifically mentioned is the Technology Crimes Division based in Buenos Aires.
Via her attorney, it was stated that the Santia family is considering a counterclaim against Summit Entertainment for harassment and defamation of character
If you understand Spanish, you can watch and listen to the press conference at this link.