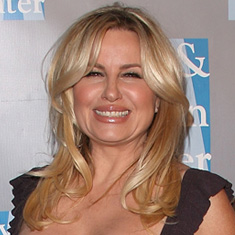 Jennifer Coolidge, who most people will probably best remember from her performances in Legally Blonde, American Pie, and Nip Tuck has Tweeted from the Austenland set. As we have been telling you, Austenland is from the novel of the same name by Shannon Hale, and is being produced by Stephenie Meyer's brand new production company! Here's what Jen had to say so far:
"Hi everybody! Early morning here in London…was very excited to meet Keri Russel yesterday….she's gorgeous!
Shooting starts soon, sorry I haven't been tweeting too much…
I'll try and send some pictures of the gorgeous costumes I've been trying on for Austenland…but maybe I'll just let you be surprised!
Early start today…hair tests, all the fun stuff that goes along with this…England is so beautiful!"
Jennifer plays Miss Charming, a character who, in the novel, is a long-time Austenland visitor with a wonderful, some times slightly bawdy, charm.
Follow Jennifer Coolidge on Twitter http://twitter.com/#!/JENCOOLIDGE and on facebook
You can discuss Austenland on out forums in our newly created Austenland the movie section, or here on the blog
You can buy the book On Amazon, currently on sale for $7.98