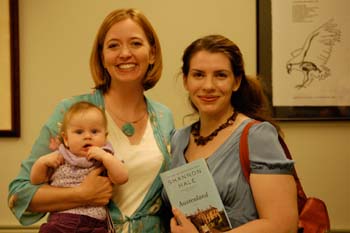 Stephenie Meyer's newly formed production company Fickle Fish Films is in the UK filming Shannon Hale's novel Austenland. As producer, Stephenie is on set every day. Shannon just blogged about the first day:
"I got to meet crew, chat with the production designer, the line producer, the UPM, Stephenie, and other cool crew members. (This crew ROCKS!) I sat in a chair (it wasn't mine, but I got to use it anyway), put on headphones, and watched characters I invented speak lines I wrote. I laughed out loud at one point at the way Keri delivered a line and will have to be very careful in the future or they'll ban that unprofessional writer from the set! But it'll be hard because it's funny, and these actors are so great. Molly (Jane's best friend) is played by the gorgeous and so funny Ayda Field. Oh you guys, I'm so excited! Can I freak out a little? Can I just get majorly giddy and excited and squeal and jump around? I mean, as long as they're not filming a scene and I'm far from set. Because I'm a professional crew member and never make a peep."
See more on Shannon Hale's blog
The photo above is from the first time Shannon and Stephenie met in person, which ironically was at an Austenland signing.