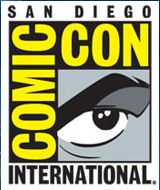 According to the newly released Comic Con Schedule:
"11:15-12:15 The Twilight Saga: Breaking Dawn Part 1— Summit Entertainment presents a sneak peek at the highly anticipated next chapter of The Twilight Saga. This is a must see for fans interested in the story's final chapters. You'll see exclusive footage from The Twilight Saga Breaking Dawn Part 1 and be treated to a filmmaker and cast Q&A session providing details on the first half of the epic two-part finale. Hall H "
Taylor Lautner will be around the same day to promote Abduction. According to THR:
"The news you've all been waiting for: Taylor Lautner is going to Comic-Con.
Sure, we all suspected he was going to be part of the Twilight: Breaking Dawn panel but Lautner will also be on hand to promote his action thriller Abduction. He will be at the Lionsgate booth (#3729 for those of you trying to map out the San Diego Convention Center floor) for a signing Thursday, July 21."
At this time we don't know if the signing with Taylor will come before or after the Breaking Dawn Panel. If we had to go with our gut instinct, we'd probably bet on after because there will likely be a press conference that he is involved in running before.
Other good news regarding Hall H.
Hall H seats 6,000 people. As of now, the items that are following Breaking Dawn into Hall H aren't exactly what we would think will draw the megacrowds.  They'll be popular, just not sure it's the same level of "OMG! It's A Swarm" popular.  Back when New Moon was at Comic Con, it was the second panel of the day behind a much anticipated appearance by Johnny Depp and then followed by the Avatar panel.  Needless to say there were tons of people camping out for the other events going on in Hall H, and they were all mixed in with the Twilight crowd. I'm not so sure there is going to be much camping other than Twilight camping, especially since all the press this year is talking how the big studios aren't bring mega projects(like Batman, Superman, Hunger Games) to Comic Con this year as much as in the past.
The Lexicon will be there all week.
Laura and Jen (Pel and Be My Escape) from the Lexicon will be there all week,  along with our friend Kallie from Twilight Series Theories, getting coverage on Twilight and Twilight related projects.