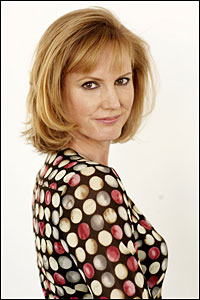 The Wrap has a great article on what has become the latest Hollywood trend: snapping up YA novels to make into movies. Melissa Rosenberg points out that just because Harry Potter and Twilight hit big, it doesn't mean every YA adaptation will. For every Twilight there are several I Am Number Four and The Golden Compass duds.
"With Harry Potter set to conjure his last spell on the big screen next month and the last "Twilight" movie due later this year, the race is on for studios to transform the next young adult literary property into theatrical gold.
There are a number of young adult adaptations in the works: Lionsgate has its hopes pinned on "The Hunger Games," a New York Times No. 1 bestseller due in theaters next year with Jennifer Lawrence in the lead role. Screen Gems is readying "The Mortal instruments," first in a series of six popular books, with Lily Collins as its star.
Melissa Rosenberg, who wrote all five of Summit's "Twilight" films, is writing and producing "Earthseed," Paramount's entry into the young adult novel-to-movie sweepstakes.
"'Twilight' did really well as movies and suddenly everyone's like, 'Let's get the next of that,'" Rosenberg told TheWrap. "A popular book is no guarantee," said Rosenberg. "What works is good storytelling."
Check out what The Wrap is listing as the hot YA properties.